Columbine Genealogical
& Historical Society
Welcome visitors!
Visitors are always welcome at Columbine. Attend a meeting to enjoy and learn from our interesting and informative programs. Linger and socialize with friendly folks who love to talk about genealogy while we share some tasty meeting treats. Who knows, you might even find a common ancestor or cousin!
Look around our web site where you will find out about upcoming meetings and the activities members enjoy. Browse through the newsletters and take a look at our bookstore page. Finally, read a page from our history where you will discover some of our accomplishments.
Our Society
Active in our community since 1973, Columbine has collected and published local records, taught sound genealogical practices, and enjoyed fellowship among our talented membership. As preferred by our membership, we have daytime meetings and workshops on the second and third Tuesdays for nine months each year.
Family history education and special projects are constant activities at Columbine. Our monthly meetings feature stimulating programs presented by experts from our membership as well as area specialists.
Classes in Beginning Genealogy are held periodically in partnership with local libraries. In depth "Early Bird Workshops" are held on the third Tuesday of selected months in the spring and fall schedule.
2017 CGHS Board of Directors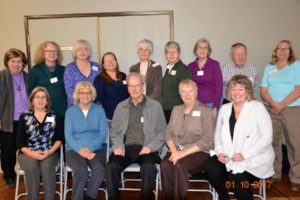 Our Objectives
Our Bylaws prescribe that we:
Promote an interest in genealogy and history.
Encourage and instruct members in genealogical research through informative programs, careful documentation and maintenance of quality genealogical standards.
Locate, preserve and index public and private genealogical and historical records and make such available to members and the public.
Assist and support those genealogical libraries, archives, and historical museums in Colorado which are open to the public.
Publish genealogical and historical information in a regular newsletter and any other publications as directed by the membership.
Programs at Columbine