Columbine's Book Offerings
Columbine offers a selection of books through the Bookstore. These publications result from Columbine projects, publications by Columbine members, and other items helpful to genealogy researchers.
The Columbine Bookstore acquires selected genealogy research books that are sold at discounted prices. The Bookstore is open for business during Tuesday afternoon meetings as well as special seminars. This member operated store has served CGHS members for over thirty years.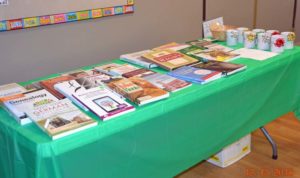 Bookstore at 2016 Holiday Potluck Social
Available Columbine Publications
When Columbine produces books or publications, they are available for purchase at the Bookstore until all copies are sold. Previously published Columbine project books are currently sold out.
Celebrating Our 35th Anniversary 1973~2008: History, activities, achievements, awards and 35-year membership roll. Gary W. Routh & CJ Backus, co-editors. Booklet, 96 p. Copies available at bookstore and mail order.
CGHS Member Surnames CD: This is a compilation of all of the names submitted in pedigree form from an ongoing project that dates back into the 1970s. CD-ROM available.
Littleton Cemetery Interment Records CD: This publication was the result of a project to extract all of the names that were listed in the original interment records kept by the Littleton Cemetery Association. Burials from 1869 into the 1980s. CD-ROM available.
Arapahoe County Colorado Marriages CD: This publication was the result of a project to publish the Arapahoe marriages that were recorded in Arapahoe County from January 1940 to June 1965. CD-ROM available.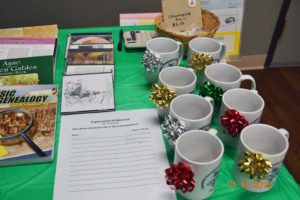 ---
Columbine Member Publications
Columbine members often produce publications that deserve note and are generally available through the bookstore or from the individuals themselves. These are a few of those titles:
We Just Did; The World War II Letters & Diary of John & Katherine Backus: Written & published by CJ Backus. A glimpse into the life of a soldier (8th Air Force, 100th Bomb Group), his wife, their family and friends and what their daily lives were like during those tumultuous times of 1943-45. 2007. Paperback.
Award-winning biographies by Joyce B. Lohse, published by Filter Press in Palmer Lake include: Spencer Penrose: Builder and Benefactor, General William Palmer: Railroad Pioneer, Baby Doe Tabor: Matchless Silver Queen, Unsinkable: The Molly Brown Story, Emily Griffith: Opportunity's Teacher, Justina Ford: Medical Pioneer, and First Governor, First Lady: John and Eliza Routt of Colorado. Joyce Lohse combines a background in journalism, a passion for history, and genealogy research methods to find true facts about fascinating pioneer characters and their stories in Colorado's glorious historical past. These award-winning paperback biographies are appropriate for all ages.
Place Names of Colorado, A Genealogical & Historical Guide to Colorado Sites: By Donald R. Elliott, Colorado Research Publications, 1999. Hardbound & CD-ROM. About 8,000 places in Colorado are listed, the largest single listing of any published document.
Cemeteries of Colorado, A Guide to Locating Colorado Burial Sites and Publications About Their Residents:Â By Donald R. Elliott, 2006. Hardbound & CD-ROM. Over 3,100 burial sites are listed, including aka names, from over 2,000 unique burial sites throughout the state of Colorado. References of publications searched are listed.
Colorado Cemetery Index, Individuals Interred in Small Colorado Burial Sites: By Donald R. Elliott, 2006, 2007 (3 volumes, 84,000 names). Hardbound & CD-ROM. A total of more than 84,400 names from 1105 different burial sites were recorded from searches that took place in 283 cataloged publications. References are cited.