In 2013 our Society became 40 years young. Founded in April 1973 by three local Littleton, Colorado, genealogy friends, Geraldine 'Gerry' White, Virginia Rothfus and Barbara Brown, it was decided Columbine's name was to include Historical and meetings were to be held in the daytime. Our founders' vision led to an active and productive enterprise that continues to enrich the community today.
Membership grew rapidly as the years passed. Columbine adopted bylaws, received non-profit status, and grew its income with fundraising efforts. Group trips to the Family History Library in Salt Lake City became an annual event. The popular annual membership teas evolved into today's holiday social season highlight (see photo). Membership stabilized to the 200-300 range where it remains today.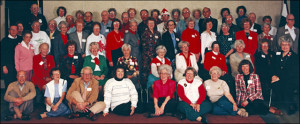 An early alliance with the Bemis Public Library in Littleton was formed, and Columbine held its meetings there for the first 22 years. During those years the Society contributed thousands of genealogy books and materials to the library, resulting in the first-class research collection we enjoy today. Columbine remains active in book contributions to both Bemis and Denver Public Library.
Genealogy education has remained a key objective of the Society. Over the years members have enjoyed thousands of instructive programs and workshops presented by a wide range of experts. In 1982 Columbine contracted a group of British lecturers from London to travel to Denver and present the highly successful British Are Coming two-day seminar.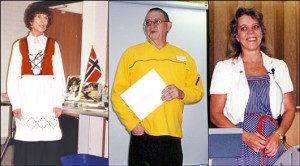 Columbine's sizable membership allowed undertaking monumental local research and publishing projects which resulted in a number of prestigious national awards. Through our membership's tremendous efforts, genealogy and history research books have been compiled and published in conjunction with the Colorado State Archives, Colorado Historical Society, Arapahoe County, Littleton Cemetery and Littleton area churches and mortuary. Among our many recognitions were the National Genealogical Society prestigious 1988 Award of Merit and a 1985 grant awarded by the American Association for State and Local History (AASLH).
Our Society's attractive newsletter grew with membership into a national, award winning publication that continues to inform members on a quarterly basis. It was awarded the National Genealogical Society 1994 First Place Award for appearance and content.
Today, the Society continues to serve its members' needs and promote responsible family research. New members continue to appear at our meetings, seeking to grow their genealogy skills and share in the warm fellowship that has been a hallmark of Columbine Genealogical & Historical Society.
You can learn more details about Columbine's history in our book Celebrating Our 35th Anniversary 1973-2008. Our bookstore is open during our program meetings.